COUNSELING PROGRAMS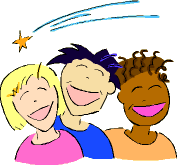 Counselors are specialists in human behavior and relationships
who provide assistance to students through four major types
of intervention: Counseling (Individual and Small group); Large
Group Guidance (lessons); Consultation; and Coordination
*Counseling programs at Osage are developed on a needs assessment basis.
*All counseling services are 20 minutes in length, with the exception of
Large Group c
ounseling which
could be up to a 45 minute lesson.
* Individual, Small Group and
Large Group
counseling occurs in grades
K-5.
*Individual counseling creates a confidential relationship which addresses the
needs of a student on an individual
basis. Individual goals are established.
*

Small Group Counseling

also creates a confidential relationship with students
in small groups to assist in resolving or coping constructively with their problems
and developmental concerns.
.
Examples of

S

mal

l Group C
ounseling programs
currently
at
Osage include:
Kool Kids > Anger, frustration, decision making...
Taking Charge > Coping skills, anxiety, worry, stress...
Banana Splits > Separation, divorce, transition...
Positive Pals > Friendship, social skills, decision making...
Study Buddies > Study skills, test taking, organization...
"Good Grief" > Grief, coping skills...
Marvelous Me! > Self-esteem, anxiety, shyness...
Self-Control Patrol > Focusing, organization, on task, impulsiveness...
Family Rules! > Family issues...
Bully Busters > Bullys, victims, bystanders
What's Up??? > A variety of students from each grade level present
weekly issues
at their grade level session (1 thru 5)
Healthy Habits > Encourages students to develop healthy habits with
eating,
nutrition,
exercise and
positive self-
image
*

Large Group Counseling

combines an assortment of activities and lessons that
foster student's academic, personal, social, emotional, and career development.
Large group allows for positive group interaction and participation.
Examples of Large Group Counseling: > Each month "special" lessons are offered
on very
specific topics to classroom teachers.
Regular class
lessons can be on any
topic that the teacher
or
counselor
feels would benefit
the class, in addition
to the 4R's Incentive topics.
CONSULTATION

establishes a collaborative relationship between counselor, teachers,
parents, admininistration, medical professsionals, and community resources to
provide
services to enable students to find success in the educational setting.
COORDINATION

serves as a leadership process that enables the counselor to provide
or refer parents to assistive services within the school and community.